A packed house of socially distanced people attended community meeting last night to discuss wilding control planned for Canterbury over the next twelve months.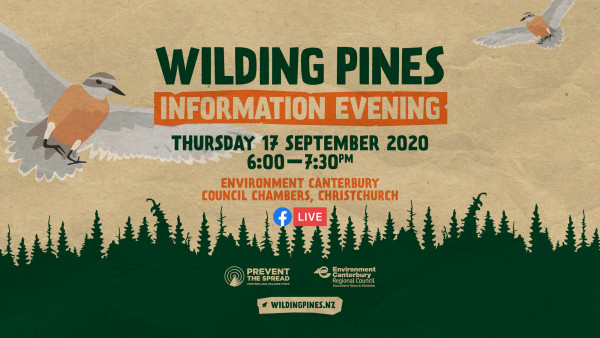 Nadeine Dommisse (COO, ECan), Dr Rowan Sprague (NZ Wilding Conifer Group), Dr Duane Peltzer (Senior Researcher, Manaaki Whenua), Sherman Smith (Manager, Long Term Programmes MPI) and Steve Palmer (Biosecurity Advisor Special Projects, ECan) discussed the threat of wildings in the region.
Over the next year we're ramping up operations, with more than $17 million of work planned over 400,000 hectares and creating up to 171 new jobs.
Work is beginning now in Mid Canterbury (Craigieburn, Porters, Hakatere), South Canterbury (Four Peaks, Godley, Tekapo East and West, Pūkaki, Twizel, Ōhau) and Banks Peninsula.
Most infestations date back to 1950s and 60s, and since then wildings have invaded the high country and dramatically altered grassland ecosystems. There are a range of wilding pine species. The most prominent is Contorta Pine – an unwanted organism under the Biosecurity Act 1993. Other wilding species include Douglas Fir, Ponderosa Pine, Corsican Pine and Larch.
The event was live-streamed on Facebook. Watch video of the event here.