When chef and entrepreneur Al Brown went searching for a worthy cause to support, it was no surprise that the never-ending battle against wilding pine came in as a top contender. The celebrity chef recently chose six charities to support through his brand of wines, Tipping Point. With six varietals 'The Woodsman', a central Otago Pinot Noir, celebrates the work being done by the Wilding Free Mackenzie group to prevent the spread of wilding pine in the Mackenzie country. Each charity will receive $10,000 initially, with a promise to receive more depending on sale levels.
"Aside from the boost in funds, the collaboration with Tipping Point gives us an opportunity to raise awareness on the importance of controlling wilding pines – in front of a national audience" said Haeleigh Turner, Group Coordinator at Wilding Free Mackenzie.
Photo of volunteers at Pukaki Flats (Twizel) from May 2021 provided by Wilding Free Mackenzie
Formed as a trust by local landowners in 2016, Wilding Free Mackenzie (formerly known as Mackenzie Basin Wilding Tree Trust) work hard to help people understand why it's important to prevent the spread of wilding pine. They liaise with local landowners, the regional council and run volunteer days where many locals turn up to remove wilding pine from sensitive landscapes such as Lake Tekapo Scientific Reserve and the Upper Ohau river.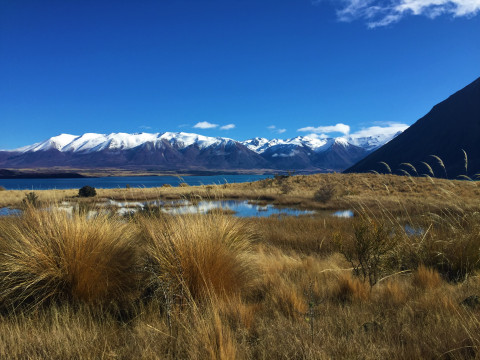 This is Ohau Tarn, one of the landscapes being protected by Wilding Free Mackenzie
Unlike commercial forests that are intentionally planted, wilding pines are self-seeded weeds, growing in the wrong place. If left uncontrolled they grow densely, shading out native vegetation and animals.
"The control of wilding pine in the Canterbury region is critical to preserving our uniquely New Zealand landscapes and biodiversity. The iconic tussock dryland of the Mackenzie Basin will rapidly be overtaken by wilding forests without collective actions like that of the Wilding Free Mackenzie group" said Sherman Smith, Programme Manager of the Wilding Conifer Control Programme at Biosecurity New Zealand.
The National Wilding Conifer Control Programme is led by Biosecurity New Zealand and is a successful partnership between key government agencies, local and regional government, forestry and farming industries, landowners, researchers and communities with an interest in controlling wilding pines.
Last year the Programme and its partners carried out wilding pine control activities on around 816,721 hectares across Aotearoa – that's about 8 times the size of Auckland!
"Although we had a phenomenal year last year, it will take a lot of hard work yet to make sure we are preventing wilding pine from overwhelming some of our most unique landscapes" says Sherman.
Check out episode six of the series, featuring Haeleigh Turner from Wilding Free Mackenzie talking to Al Brown about the problem with these pesty pines.